Your Wellness and Business Goals, An

ASK

Away.
Building yourself up & achieving your dreams starts with learning to ASK others for help.
My mission is to teach you how to ask for help in order to increase your overall wellness & change your behavior, both personally and professionally.
It's called...
It's a customized coaching program to help you to gain "Radical Wellness" – a result that will allow you to not only look and feel great, but demonstrate PEAK PERFORMANCE. Let's begin your journey to holistically aligning your life, rewiring your habits, creating a mindshift, and managing your energy.
APPLY NOW!
Is a healthy lifestyle a result of being successful, or is being successful a result of a healthy lifestyle?
Today's evidence is undeniable: being well is a head-to-toe experience that affects every facet of your function. Want to "fire on all cylinders?" All the parts must be in place… and you're only as good as your weakest link.
How you do one thing is how you do all things.
Radical Wellness is the key to achieving your highest, most aligned output. When your "parts" are aligned - your personal "Operating System" runs smoother.
It's similar to taking your clunky, old computer for a tune-up and purging all the old junk files and viruses. All of a sudden it zips along. And so will you.
But it starts with ONE thing…
ACCOUNTABILITY.
We are Here to Help One Another… But It Takes Thoughtful Communication and Action.
LEARN TO ASK!
I know what it's like… because I struggled too.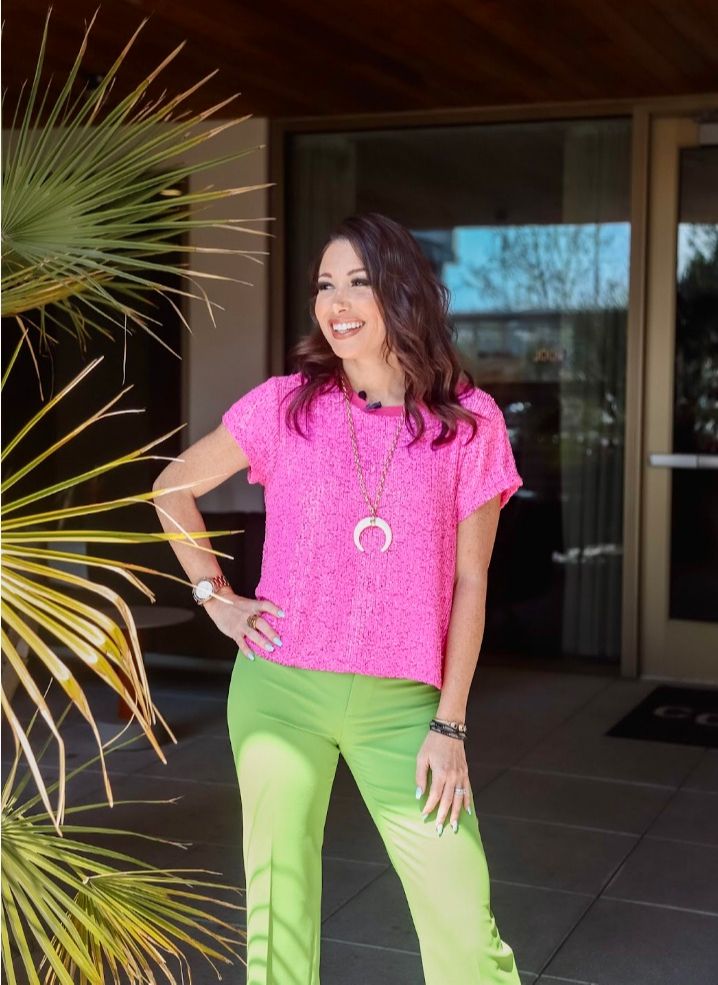 I'm a media personality, wellness influencer, successful podcaster, and happy wife and mom. I spent 20 years as a high level PR + marketing executive, on the front lines of the health & wellness category. I'm the daughter of TV journalist Joan Lunden, who spent a good part of her own career inspiring women to live healthier lives, and I was proud to be on the same path.
Looking at me from the outside, you'd think I was really rockin' it!
What you wouldn't know is that underneath this veneer, I have struggled my entire life with various addictions. In my twenties, they nearly killed me.
Between bouts with drugs, alcohol and disordered eating, the undercurrent of pain & shame I experienced was paralyzing… especially for someone who seemingly "has it all together." That notion can make it so much harder to get vulnerable and admit defeat.
Can you relate?
So how did I break free?
By learning to make THE BIG ASK.
Once I learned that asking for help is not "weak" and is, in fact, the most courageous thing you can do, everything changed.
I got well…. only to return to the corporate workforce to realize that my friends and colleagues were dropping like flies from burnout.
I started turning my attention to my business teammates, helping them to rise above the trappings of an unbalanced professional life in order to feel their best and BE their best.
I realized the same rules apply, whether you're fighting addiction, embarking on a personal health journey, or striving for big professional wins…
It's all about:
identifying your

soft spots
enhancing

your strengths

and learning to

ask for help

to stay the course.
Let's find the Soul-ution. Together.
Asking for help is not weak. In fact, it's the strongest thing you can do.
Whether you are looking to get your health & wellness under control, or you're looking to uplevel your mindset & career (or both!), The Big Ask has a program for you.
THE BIG ASK METHOD HAS TWO COACHING OPTIONS WITH JAMIE:
THE BIG ASK
Health & Wellness Focus
1:1 COACHING
THE FULL RESET
Business Coaching for Peak Performance
1:1 COACHING
The daily work will always come from within YOURSELF. We are not asking others to do the work for us… but Accountability is the key to get to the next level.
Once I stopped suffering in silence - from food compulsions, business burnout, decision fatigue, imposter syndrome, and all the other difficult things our minds put us through in a given day – everything changed.
I felt better, not just in my own skin, but in my sense of self. This new-found clarity, discipline, and confidence gave birth to a whole new chapter. I developed sustainable systems, both personal & professional… and I invited in accountability partners to help me stick to them.
As I changed personally, my professional life began to elevate as well.
All of a sudden, I broke free from the shackles of that pesky "glass ceiling."
I felt confident, so I acted from a place of confidence. My business started to grow. The revenue followed. One day I realized: that girl who used to feel like a victim, an imposter, and a fraud was GONE. In her place stood someone who - quite simply - did not believe she could fail.
This is the unshakable confidence that the Big Ask can deliver. When we stick to our goals using accountability, the feeling of pride on the other side is incredible… and can produce measurable professional outcomes as well.
With radical wellness as your north star, you truly step into your main character era.
Let's get you there, together.
Let me introduce you to a few people who overcame their fear to ASK: